If you would like to know how to clear browser cache and data, please see the steps below.

When you use your browser to surf through the internet and visit websites, your browser saves several contents and data in temporary storage called "cache". That way, when you revisit the website, it will load faster.
However, that cache could get confused and you would encounter issues when the websites you revisit updates its contents.
Therefore, clearing your cache and browser data fixes problems such as streaming video on the websites you visit.
Today, I will be going to provide you with steps to clear your browser's cache.
Google Chrome:
Please open your Google Chrome
On the top right of your Chrome, please click More(Control)…
Select More tools, you see new options
Then Clear browsing data
At the top, choose the time. (To delete everything, select All time)
Check the boxes for Cookies and other site data and Cached images and files
Now, click Clear data
Mozilla Firefox:
Please open your Firefox browser
Select the Menu button and click Options
Click Privacy and Security tab
Checked Cookies and Site Data & cached Web Content
Then, select Clear button
Microsoft Edge:
Please open your Edge
Select Settings and more button at the top right
Then, select Settings
Click Privacy & security tab
Select Choose what to clear button
Checked Cookies and saved data, Cache data and files
Select the Clear button
Opera:
Please open your Opera browser
Click the Menu button on the top-left part of your browser
Click on Settings
Click on Privacy & security
Under "Privacy", click the Clear browsing data button
On "Clear browsing data", select from the drop-down from when you want to clear the browsing data. (I'd recommend to select the "the beginning of time" option)
Select Cookies and other site data, and Cached images and files options
Click the Clear browsing data button
Internet Explorer: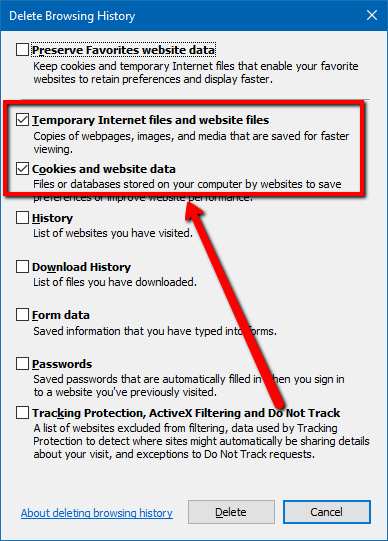 Please open your Internet Explorer browser
Press Ctrl+Shift+Del to open the Delete Browsing History window
Checked Cookies and website data & Temporary Internet files and website files
Click Delete
Thank you for browsing WinZip Blog. Have a good one!
Was this post helpful?
Let us know if you liked the post. That's the only way we can improve.